Ken Parrish DMD, PHD

Louisville, KY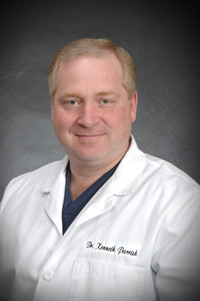 Dr. Parrish has an international reputation. He has lectured and trained dentists in implant techniques in Canada, Mexico, and Europe as well as all over the United States. The training center at United Smile Centres in Louisville has been an educational destination for hundreds of dentists both nationally and internationally…from all over North America and Europe and from as far away as Australia.

Dr. Parrish has served as a consultant and trainer for dental implant manufacturers. He has completed both clinical and basic science research on dental implants and periodontics and published research articles in peer-reviewed journals. Dr. Parrish's expertise was sought out in the national Barron's magazine for an article on the future of implant dentistry:

A Kentucky native, Dr. Parrish received a Bachelor's degree at Western Kentucky University and a Doctor of Dental Medicine from the University of Louisville School of Dentistry. He then was one of a select group to receive the prestigious National Institutes of Health Dentist Scientist Award Fellowship to attend the University of Iowa. While at Iowa he received a Certificate in Periodontics in the School of Dentistry and a Ph.D. in Microbiology in the School of Medicine. His research involved the development of advanced techniques in molecular biology to study the ecology of the bacteria that cause periodontal and peri-implant disease. He has trained students in Periodontal Residency training programs while serving as an Assistant Professor at the University of Kentucky College of Dentistry. Dr. Parrish was recruited to the world-renowned Cleveland Clinic where he served as the Head of the Section of Periodontics and was the primary surgeon in the Center for Implant Excellence. Most recently Dr. Parrish has focused on clinical research and published articles on the development and placement of new implant designs. He is Certified as a Diplomate of the American Board of Periodontology, the highest level of achievement possible, and is the only Periodontist in private practice in Kentucky that combines Board Certification with a Ph.D.

Dr. Parrish has been married to his beautiful wife Rita, a registered nurse and Owensboro native, since 1989. His daughter Kaitlin was a Governor's Scholar and Valedictorian of her high school class and is currently enrolled in Centre College.