Why Dental Implants?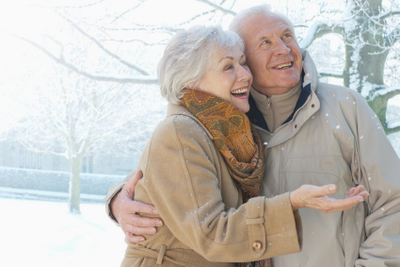 Patients are increasingly learning the benefits that come with dental implants and we couldn't be more excited to share this restorative treatment with them. Dental implants can be used to not just replace, but to restore missing teeth. They are more than false teeth, with dental implants we are able to fully rebuild the entire structure from the root up. This type of full restoration has taken over teeth replacement because studies show long term success. At United Smile Centres, we recommend dental implants when restoring teeth because they provide patients with benefits that no other solution can provide.

A dental implant is like no other restoration. It's not actually a tooth at all, but can be used to replace a missing root. The shape of a dental implant is very similar to a screw, it can be made using titanium metal or a non-metal ceramic. The implant consists of a threaded end that will be placed into the jawbone and then a head that can be used to place a dental prosthetic including a dental crown, bridge or even a denture. Because the implant is set into the jaw, your health will benefit in both bone health and by not relying on neighboring teeth to support the new tooth.


Healthy Remaining Teeth

Traditionally, when replacing a tooth, we may recommend a dental bridge. A bridge is supported by neighboring teeth to keep it in place. In general, a dental bridge is an excellent restoration, but if we can leave the neighboring teeth alone and not permanently alter them, that would be even more ideal. With dental implants, we do not have to sacrifice neighboring teeth to provide support.


Implant Retained Dentures

An exciting advancement that has come with the aid of implants has been the development of a fixed denture. We can retain your denture permanently in place with implants. This includes fixed dentures that are still removable like the bar implant retained denture and the ball implant retained denture. It also includes non-removable fixed dentures like the All-on-4® Treatment Concept.

Implant retained dentures vastly increase their comfort and allow you to resume your normal diet.


Implant Procedure

Much of the process for receiving dental implants is in the preparation. During your consultation, we will discuss your medical history and gather information about the health of your gums and supporting bone. Though most patients are candidates for implants, there are some who are not. We need a patient to be able to heal appropriately, this means that patients with uncontrolled diabetes, those receiving cancer treatment, taking certain medication or who smoke tobacco may need to wait or make some changes before treatment can be done. We can discuss this with your physician if needed. Once we know that you can heal at a reasonable rate, we can continue.

We will want to know the status of your gums and supporting bone. Some patients require periodontal treatment, some patients require a bone graft. We can review and discuss this in planning. The surgery itself is minimally invasive. Most patients find a local anesthetic to be sufficient, though if multiple implants are being placed we can discuss conscious sedation options. The implant is sunk into the bone and the patient is then sent home for a period of healing. As the bone heals, it will grow around the threads of the implant fusing the two together.


Long-Lasting Proven Solution

Dental implants have proven to be a very durable long lasting solution. Through maintaining good oral care and proper hygiene, studies have shown that they can last many years, or even a lifetime.

Additional Information:
Benefits of Dental Implants
Am I a Candidate for Dental Implants