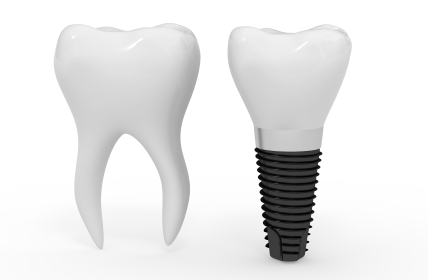 With today's advancements, we can replace missing teeth even better than before. We can fully restore missing teeth by rebuilding their root and reestablishing connection to the bone with a
dental implant
. A
dental implant
is a post that with time will fuse to the bone, it comes in both metallic titanium or non-metallic ceramic. Once healed, it is a fully independent, functioning tooth, which is better for your bone, better for your other teeth, and better for you.
What Is A Dental Implant?
A
dental implant
is a device we use to restore missing teeth. It can be used to support a single dental crown, as part of a dental bridge, or even an entire denture. For single missing teeth, a
dental implant
can be a great option because it's an entirely independent system. Other dental restorations require the alteration of otherwise healthy teeth. If we can restore the tooth without interfering with your other teeth, that is always best.
Dental implants are shaped very similarly to a screw, with a threaded end and a head. Similarly, they come in a variety of lengths and widths depending on the prosthetic being used. The threaded end is surgically embedded into the jaw bone, as the bone heals it will grow around the device through a process we call osseointegration, which means integrating with bone. As the bone grows around the threads, it bonds the bone and implant firmly together, making the implant a strong post in your mouth. After healing has occurred, we can then place a dental crown over the post and you will have a fully restored tooth independent from neighboring teeth.
The benefit of a dental implant is providing the patient with a fully restored tooth.
Why Get A Dental Implant?
Losing a tooth may not seem like a big deal, but the patient will experience a number of effects including:
| | |
| --- | --- |
| • | Atrophy: All of our bones require exercise to stay healthy and strong, including our jawbone. We exercise our jawbone through the movement of our teeth, this energy is transferred through the roots of our teeth and to the bone. When a tooth is lost, so is this energy transfer. The bone responds with atrophy, or taking in of resources. |
| • | Movement of Teeth: Losing a tooth doesn't just affect the lost tooth, your neighboring teeth were kept in line by being together. Missing teeth allows room for neighboring teeth to roam. Many patients express that maybe this is a good thing because of overcrowding, the difference is when an orthodontist removes a tooth they then plan a controlled movement of the remaining teeth. Losing a tooth allows for uncontrolled movement. |
| • | Unbalanced Chewing: A missing tooth can make chewing more difficult. Often the response from most patients is to begin chewing more predominantly on the other side. This unbalance in chewing can cause uneven wear. |
The Dental Implant Process
Having a dental implant placed can be complicated and lengthy. Much of the work is done in the preparation of surgery. We will examine you, take x-rays, and determine if restoration is right for you.

Oftentimes, a bone graft procedure is required before the implant can be placed to add bulk to the bone. Additionally, if the patient is suffering from gum disease, we will want to help them gain control before infection can disrupt the healing process.

With the bone healthy and built up, we can then proceed with surgery. Surgery is quick, and completed in our office often with just a local anesthetic. With the post in place, we will then send you home for a period of healing. Once the post has become solid in your bone, we can then place the prosthetic.
Can't smile because of a missing tooth? Want to bring back the pearly, white smile and boost your confidence? Dental implants are becoming more popular for restoring the beauty of an oral cavity tainted by missing teeth. They are ideal for patients who are missing one or more teeth. There are two main types of dental implants, endosteal and subperiosteal. Endosteal is a dental implant that is surgically placed in the jawbone, while subperiosteal is an implant placed beneath the gum tissue, on top of the jaw.
If you decide that a dental implant is not right for you, you can also get a tooth-supported fixed bridge, a removable partial denture, or a resin-bonded bridge.
Call us today at (502) 899-3000 to schedule an appointment to learn more about single dental implants as well as
multiple dental implants
.